The Verandah Gardens,
Kakkanad, Cochin
Project Type
Retirement Homes
Location
Kakkanad, Cochin
Unit Types
Furnished & Managed Homes
Project Status
On-going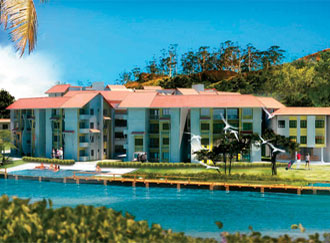 Overview
The Verandah Gardens is designed as a retreat for a stress free retirement life, having been inspired by successfully run retirement homes in developed countries. All attention and care is given to each and every detail of the planning, needs and requirements for an enriched retirement life. The Verandah Gardens is set in a serene and peaceful atmosphere on 2.87 acres by the banks of the Kadambrayar River and is just 10 minutes drive from Kakkanad. This enclave is designed with two residential blocks, having 132 residential units of which 32 are meant for singles and 100 units for double occupancy. Every apartment opens to the wide Verandah which over-looks a large landscaped courtyard of approximately 5000 sft.
At the Verandah Gardens, we have a large dining block with an air conditioned space and a Verandah Dining which is non A/c. There are separate blocks for Recreation & Guest apartments, Dining hall, Community hall and Wellness center.
The Verandah gardens has three types of residential units viz,

Type I – 1050 sft meant for couples This unit is designed with a spacious living and dining space with a balcony and a fully loaded kitchenette. A separate large bedroom with an attached toilet and an additional half bath is also provided.

Type II – 853 sft meant for singles This unit is designed with a spacious living, dining and a fully loaded kitchenette. A separate large bedroom with an attached toilet and a balcony is also provided. The residential units are fully furnished and loaded which means, it includes all what you have in your home.

Type III – 1326 Sq. ft, we have designed the two bed room fully furnished and loaded apartment with attached toilets, which is meant for either two singles like 2 brothers / 2 sisters, or father and daughter like wise.

The Verandah comes with a host of thoughtful features like antiskid tiles, soft taps, wider & wheel chair friendly pathways and doorways, grab rails, 24-hour hot running water and an energy saving solar power system. 24 x 7 security, House keeping, Diet menu options, visiting doctors and tie-up with hospitals are other features.
Copyright © 2020 infrahousing.com. All rights reserved.