Infra ForeShore,
Foreshore road, Ernakulam
Project Type
Super Luxury Apartments
Location
Foreshore road, Ernakulam
Unit Types
3 & 4 BHK
Project Status
Ready to Occupy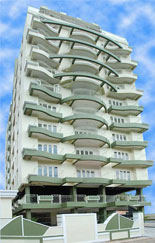 Overview
Infra Foreshore stands majestically off Foreshore Road overlooking the enchanting backwaters of Kochi and even the vast expanse of the Arabian Sea. This ground + 12 storied residential structure with Twenty 3 & 4 bedroom apartments boasts of a neighborhood comprising of many landmarks of Kochi like Marine Drive, Subash Bose Park, Medical Trust Hospital, Fine Arts Hall, Shiva Temple, Lotus Club etc. Located merely 300 mtrs form M.G Road, Infra Foreshore is situated right at the centre of the city, nestled in a serene atmosphere and away from the mad rush of an emerging metro.

Infra Foreshore is a rarity being one of the last few apartments buildings left that has a waterfront view near the Marine Drive. Being near the waters means pollution free environment and fresh air for your lungs. It promises you nothing less than comfortable living with a party area on the roof top, health club, swimming pool etc. Exclusive two apartments on each floor that provide the privacy an individual home can offer. In all only 20 apartments in the building, making you the privileged. Each room has a breathtaking view of the gently lapping backwaters and is carefully designed to create an ambience for the perfect harmony between mind and soul.
Common Amenities
All round ventilation
Utmost privacy, only 2 apts on each floor
No common sharing walls
Door phone security & Intercom connection
Designated car wash area
Breath taking view of the of the bay water from all balconies
Amenities
Swimming pool
Terrace party deck
Meeting room
Health club with fitness equipment
Elegant lobby on ground floor
Indoor games
Internet connectivity
One passenger and one services/bed lift
Copyright © 2022 infrahousing.com. All rights reserved.