Infra Housing Pvt. Ltd. has been in the main stream of the construction industry in Cochin for over a decade. The company started in the year 1996, is promoted and managed by two directors Mr.John George & Mr.George E George with a team of experienced professionals.
The company's core business is into residential apartments and villas and has also spread its wings to the commercial, hospitality and retail segment. The various completed and ongoing projects are in the best locations in Cochin, and the satisfaction of the customers stand testimony to the core values of the company. The company which is, ERP enabled is managed by a professional and dedicated team.
rolex bezel replacement cost tag heuer aquaracer link removal fake watches replica tag heuer watches paypal rolex yachtmaster gold and blue replica watches womens 14k gold watches montblanc timewalker replica watches fake watches breitling chronoliner b04 boutique edition replica watch info trusted dealers rolex replica
The promoters have a passion for introducing new concepts in the industry – Infra was the first to successfully launch & run the concept of a multi-ownership hospitality venture- Lotus 8 Hotels. For the first time in India, the company is introducing the concept of high end retirement homes, quite popular in other countries.
Infra Housing has completed and delivered 472 homes till date and another 415 homes is progressing towards completion.
Company Structure

Mr. John George, Director
A Graduate Mechanical Engineer with 28 years experience in the execution of turnkey projects for major public sector corporations at various locations in India. Responsible for execution of all projects of the company.


Mr. George E. George, Director
An arts graduate by qualification, a hard core professional with over 24 years experience in marketing in India and abroad. Responsible for all marketing activities of the company including organising marketing exercises in various cities in India and abroad.
Our Consultants
M/s.Binesh Sukumar, Architects & Planners.
M/s.Geo Structurals Pvt. Ltd.
Mr. Sterling Engg Consultancy Services, Bangalore.
M/s Terra Firma, Bangalore, Landscape Consultants.
M/s Zach Insides, Interior Consultants.
Ahanaz Design for Space.
M/s Marg Hospitality Pvt. Ltd, Hospitality Consultants.
M/s Korah & Korah, Chartered Accountants, Financial Consultants.
M/s Murali Associates, Chartered Accountants, Auditors.
JDNT & Associates, Chartered Accountants, Auditors.
Group Companies:



Infra Hotels & Resorts Limited
A public limited company promoted by Infra Housing Pvt. Ltd. The Company is into the hospitality sector and owns & manages the Lotus 8 A'part Hotels and other Lotus 8 brands.
The first project of the company Lotus 8 A'part hotels, located just opposite the Cochin International Airport, has 58 suites, restaurants, coffee shop, banquet & board rooms and is the first three star classified apartment hotel in India to introduce the concept of multi ownership. Lotus8 has 58 non resident Indians owning the 58 suites. Lotus 8 has been successful in giving excellent returns to its investors for the past four years.
The second project of the company Infra Nouvelle with the same concept is under construction in Kakkanad. The company also plans to launch a beach resort at Marari beach near Alleppey.

Nippon Infra Projects Pvt. Ltd.
This company is promoted in association with Mr. Babu Moopan, Managing Director, Nippon Toyota & Geeyem Motors.
The first project of the company – Q 1 is a 300 Crore Commercial project on the Cochin by pass, which is a combination of retail space and high end office spaces. The project is under construction and is expected to be completed by June 2015.
Organisation Chart :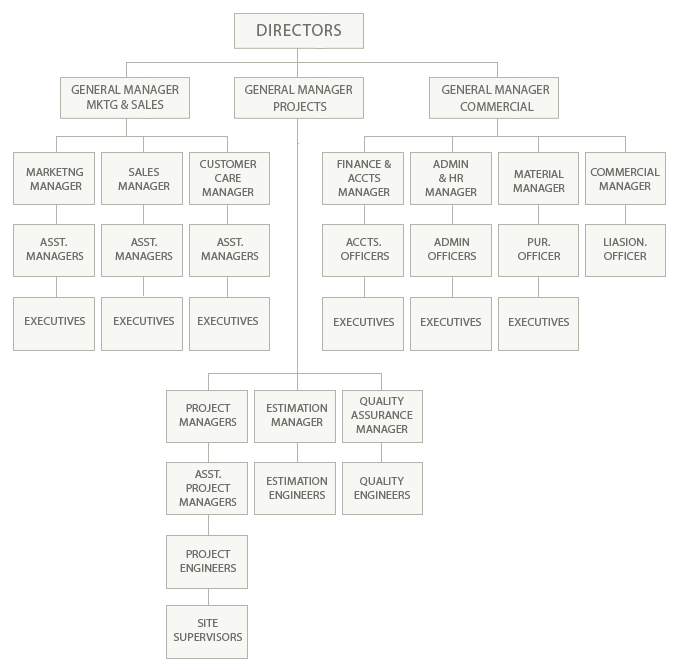 Copyright © 2022 infrahousing.com. All rights reserved.